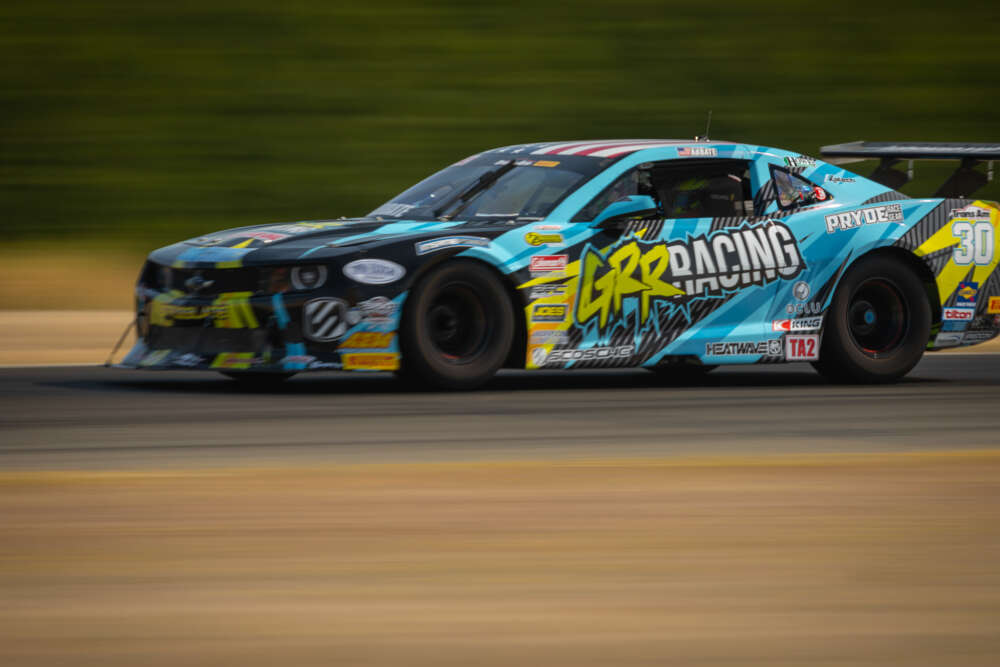 Round 1 of the Trans Am West Coast Championship Series presented by Pirelli finally took place at Thunderhill Raceway this past weekend, August 1-2nd.  After several schedule revisions due to the COVID-19 virus over 20 teams entered the season opener with expectations of high heat and a challenging sound limit for the race weekend.
The Grr Racing team took advantage of the extended off season and put in weeks of prep work and testing to dial the car in as best as possible.  "We have refreshed several main components of our TA2 to get ready for the 2020 season, from the transmission, rear end, steering box, and also installing brand new Joe's Racing Products hubs and an entire new PFC Brake package, we knew we came to the track prepared as best as we could be", Anthony Philleo stated, Crew Chief of the #30 Grr Racing team.
Due to budgeting the team was unable to participate in the test session on Friday, so they worked to take full advantage of the practice session on Saturday morning.  A small track-side fire caused a black flag for the entire field to come into the hot pits for about 10 minutes.  When it was time to head back out the #30 ignition wouldn't crank.  Anthony was able to diagnose the car within minutes to get Abbate back on track for valuable seat time at Thunderhill.  "It's the worst thing to miss out on precious track time but Anthony kept his cool and was prepared with everything he needed to get us back on track; he really did an awesome job by himself this whole weekend," driver Michele Abbate expressed.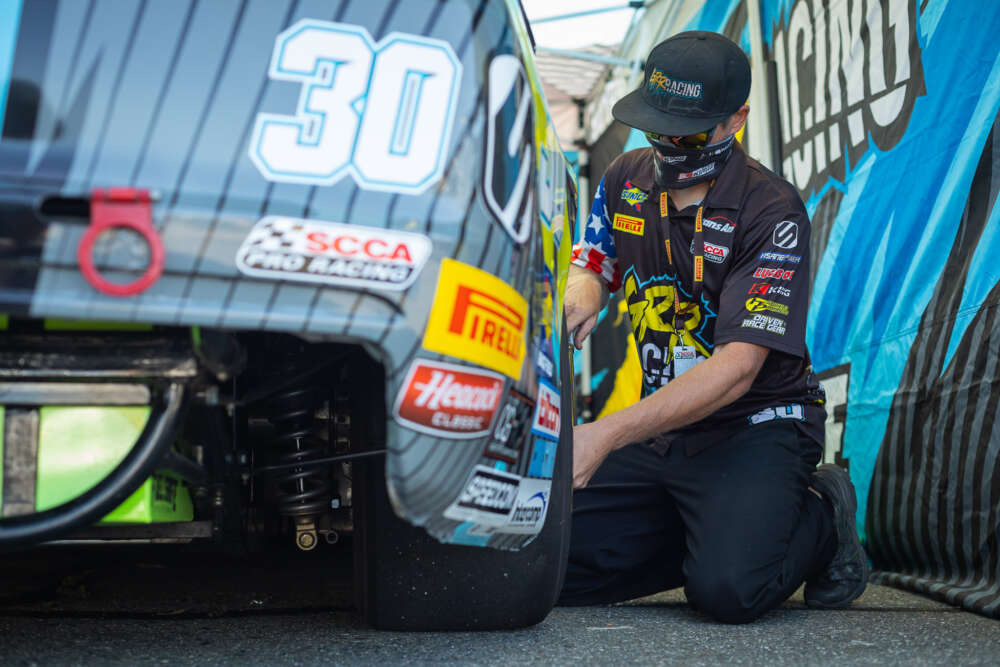 The team's qualifying strategy consisted of trying to nail their best time in 3-5 laps.  Abbate pushed hard and was able to secure her personal best time of a 1:52.5, over a half second faster than last year's best time.  "It was awesome to be able to land my best time in the 4th lap of our qualification session, but these guy are really fast out here", Abbate shared as she secured the P7 spot for the start of Sunday's 100-mile race.  "Michele is very consistent during the races, and if she can drive smart, smooth, and hit her marks the race will come to her", Anthony pointed out.
Michele was on the inside of the 4th row when the green flag dropped and lost one position as the cars cleared turn one.  "I didn't want to be too aggressive off the start, and 100 miles makes for a long race, so I really didn't stress losing the position right off the bat.  The priority was making it through turn one clean, and we did that", Michele explained.  By lap two Abbate had made a beautifully executed pass going into turn 1, putting her back in the 7th position.  Two laps later she made another clean pass for the 6th position. "It was really awesome to reel these guys in and execute properly planned passes.  I'm still very new to these cars and passing is something I've been wanted to get better at; meaning, reading my competitor and learning where the best place is to make the pass and it was really valuable to experience that so early in the race", Abbate said.
On lap 6 Michele made up two more positions placing her just outside of the podium.  "Michele's lap times were faster than the 3 guys in front of her for the better half of the race, which allowed her to keeping reeling them in," Anthony said.  With 12 laps remaining, Abbate put her head down and got herself on the bumper of the 3rd place car.  Abbate was running faster lap times as the car was becoming harder to drive. As the car became looser and the #25 car running a good defensive line, she was trying to push for more speed but ended up putting 4 wheels off track, without losing it, but it did result in creating a 4 second gap between her and 3rd place, with 3 laps to go.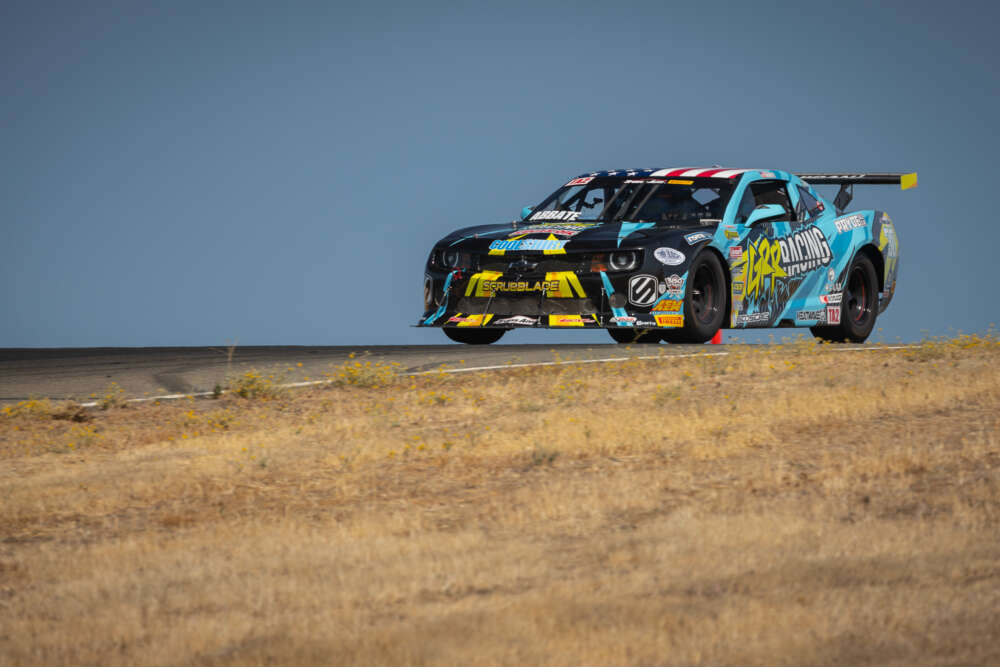 Incredibly, by the white flag Abbate was glued to the back bumper of 3rd place. "The #25 car was making for an exciting race and I was doing everything I could to run clean and give it my all, there's nothing I want more than to stand on that podium!" Michele smiled.  With the final two corners before the checkered, Abbate made her hail mary attempt to make a pass on the outside, and by the middle of the corner, she had passed the 25 car, but, was up in the marbles and the two slightly touched.  Michele lost a bit of speed as her two left side tires dropped into the dirt and she recovered just behind the #25 car.  The two cars raced nose to tail the checkered flag with just 0.25 of a second between the two of them!
A very impressive race for the entire Grr Racing team and a hard drive from P7 to P4.  "This is a great start to our 2020 season, and it was an excellent display of the talent Michele has as a driver in racing conditions.  She had the most consistent times out there and was very strong during the 2nd half of the race, which is exactly what is needed with these cars.  We are so proud of her and can't wait for the next round of Trans Am at Sonoma in a few weeks!" Anthony shared.  "This was such an awesome weekend for us and I am so pumped  on how well the car is set up.  The new PFC Brakes we put on the car made a world of a difference and it's so nice to be able to predict the car.  I'm so proud of our performance this weekend, we were so close to getting a top 3 today, and it was so rewarding to have a full green 100 mile race without any cautions, a great job to the officials and track workers", she said.  "With this 104 degree weather, it was the first time I got to race with my new CoolShirt ProCoolR system, and I can say hands down that I wouldn't have been able to secure our best Trans Am finish to date without this system.  It kept my core temperature cool for the entire race and allowed me to focus on the battle on track.  A mega thank you to CoolShirt and their support and believing in our team and our efforts".
Catch the Grr Racing team at the next round of the Trans Am series on August 21-23 at Sonoma Raceway.  "Sonoma is one of my favorite tracks on the west coast so I am really excited to get back there for round 2!", Michele explained.  You can get all the behind the scenes content from Michele and the Grr Racing team on instagram, facebook, twitter, and youtube.  Be sure to catch The Grr Racing Podcast LIVE every Wednesday at 7pm PST on Facebook and YouTube.