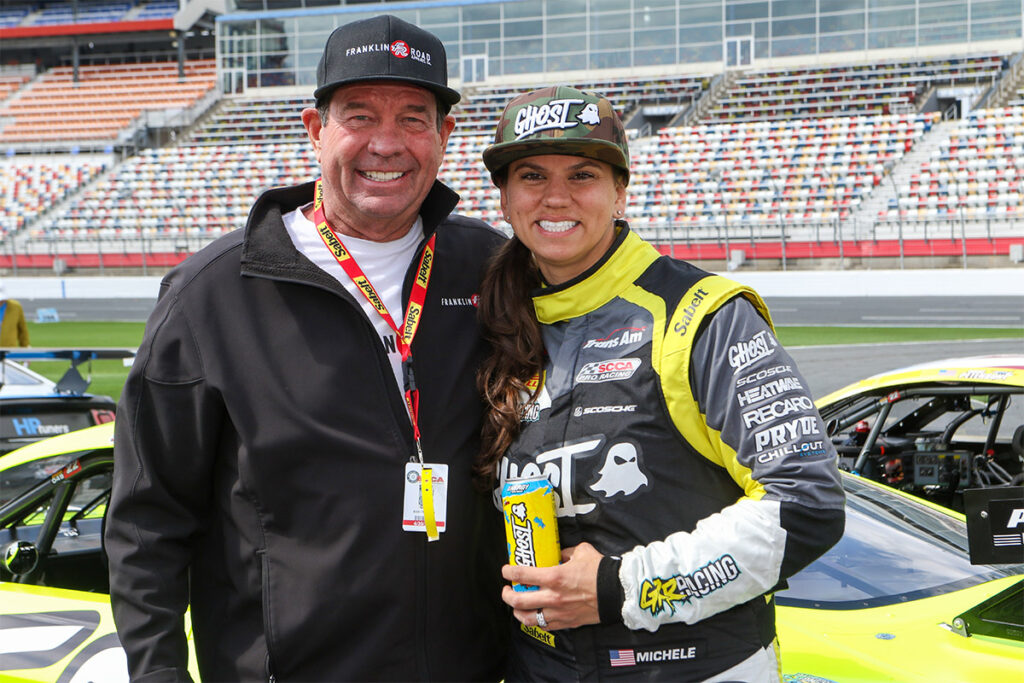 Las Vegas, NEVADA (December, 12, 2022) –  As she completed her first year running the full Trans Am TA2 National Tour Schedule in 2022, driver Michele Abbate finished 21st out of 76 entrants for the championship season.  Learning nine new tracks and gaining the most experience she has in her career, she also came away with two Bassett Hard Charger Awards and six top 20 finishes.  
Moving into the 2023 season, Abbate has officially signed with the established Trans Am team, Showtime Motorsports.  She will be joining TA2 teammate Dylan Archer, as well as Ken Thwaits and Justin Marks in the TA Category.  Showtime Motorsports is the only team in the Trans Am paddock with a full effort in both TA and TA2.
"I couldn't be more excited and proud to be making this announcement.  I am truly honored to be a part of the Showtime Motorsports team and I am laser focused as we head into the 2023 season.  We were very impressed with the entire operation of the team at COTA – from car setup, knowledge, professionalism, and the overall team's immediate positivity", Michele shared.
Team Owner and TA Driver Ken Thwaits explains, "Showtime Motorsports is thrilled to have Michele on our team! She brings great driving talent and possesses star quality. We will provide a great marketing platform for the Ghost Energy, Lucas Oil, and Scosche brands that Michele brings to the table. As currently the only woman in the very competitive TA2 class, she possesses a determination that is second to none! We look forward to providing her with top notch equipment and intellectual power to succeed. Look for Michele as one of the stars in the upcoming MavTV series Road to Greatness debuting in February 2023".
Abbate will be campaigning a Mike Cope Chevy Camaro with Crew Chief Derick Jennings.  In addition, Michele's Crew Chief Anthony Philleo will be joining the team as a car mechanic and spotter.  Additional announcements will be made in the coming weeks to include title sponsor, vehicle livery, and more.  The full 2023 TA2 race schedule includes:
February 23-26 Sebring International Raceway
March 9-12 NOLA Motorsports Park
March 23-26 Road Atlanta
May 26-29 Lime Rock Park
June 2-3 Detroit Grand Prix 
June 22-25 Mid-Ohio Sports Car Course
July 6-9 Road America
August 3-5 Big Machine Music City Grand Prix
September 6-10 Watkins Glen International
September 22-24  World Wide Technology Raceway
October 5-8  VIRginia International Raceway
November 2-5 Circuit of The Americas
Be sure to follow the Showtime Motorsports team on social media:
YouTube https://www.youtube.com/@showtimemotorsports1330  
Facebook https://www.facebook.com/showtimemotorsp
Instagram https://www.instagram.com/showtimemotorsp/
Website www.showtimemotorsports.net
To keep up with Michele you can follow her at:
Instagram [Driver]: www.instagram.com/M1cheleAbbate 
Instagram [Team]: www.instagram.com/GrrRacing
Facebook: www.facebook.com/M1cheleAbbate
Grr Racing App: https://tinyurl.com/GrrRacingApp 
Website:  www.GrrRacing.com