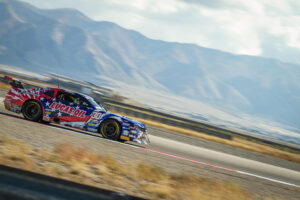 Top 10 Finish for Abbate in Trans Am TA2 at Utah
Round 6 of the Trans Am West Coast Championships was held at Utah Motorsports Campus in Grantsville, UT. The weather was extremely unpredictable with high winds, rain, and lightning storms.
Abbate and the Grr Racing team opted out of the test day after seeing no clean track time because of the weather. "We are here to dial our car in on a dry track for Sunday's race, so the time on the car for these tests sessions won't be beneficial to us," Crew Chief Anthony Philleo explains.
Thankfully the sun came out for qualifying and Abbate was able to land her personal best laptime of a 1:59.3 on the Outer Loop Course. A very tight TA2 field earned her a 9th place spot on grid for Sunday's race, with just a half second between her and the next 5 cars in front of her.
"I am personally happy with my qualifying time, but we definitely have a lot to figure out in order to catch the leaders tomorrow", Michele said.
On Sunday the weather was sunny and about 50 degrees. The green flag flew for the 100 mile race and the fire breathing TA2 cars went at it. A spin in turn 1 caused a bit of chaos and some contact with two other competitors but Michele was able to make it unscathed. Running as high as 7th, she continued to fight to the front.
A full green race was a challenging one as Michele and Tim Lynn had a battle the entire time in the 8th and 9th positions. Running some of the fastest laps at the end of the race, Abbate would catch Lynn in the technical corners but Lynn was able to pull her out of the corners and on the straights. Being a high speed track Abbate was at a disadvantage but the two put on great show, with a close finish as the checkered flew.
Michele earned a 9th place finish and holds her 5th place position overall for the 2021 Trans Am West Coast Championships. The next round will be held at Circuit of the America's in Austin, TX November 4-7th. Stay tuned for more updates from the Grr Racing team and the Lucas Oil #30 TA2 Chevy Camaro.