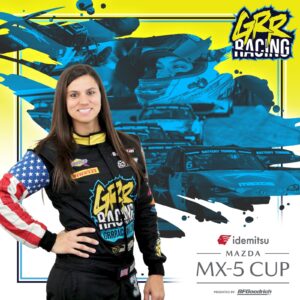 On Monday October 4th, Mazda Motorsports named Michele Abbate as a nominee for the 2021 Mazda MX-5 Cup Shootout alongside 32 other top drivers in the nation. Today Mazda announced the 12 finalists that will head to Sebring International Raceway to compete in their chance to win one of three scholarships for the 2022 Mazda MX-5 Cup Championship Season.
The scholarships include one $110,000 and two $75,000 prizes that will be awarded. Although due to Michele's significant professional racing experience she is not eligible to win the $110,000 scholarship she is eligible for the Women in Motorsport $75,000 scholarship.
"I am beyond excited and so grateful for this opportunity that Mazda has provided. It truly shows the effort that Mazda consciously makes to keep excelling motorsports and specifically paving the path for women to succeed in the sport as well. I look forward to applying myself in all avenues of the shootout, learning, and networking during the two days at Sebring", Abbate shares.
The official Mazda Motorsports Press Release can be found at: https://www.mazdamotorsports.com/2021/10/07/mx-5-cup-shootout-finalists-announced/
The full list of Finalists in alphabetically order by first name are:
Aidan Fassnacht – Spec MX-5 Challenge
Alex Berg – Spec MX-5 Challenge & Spec Miata / Teen Mazda Challenge
Bryce Cornet – Spec MX-5 Challenge
Bryson Morris – Spec MX-5 Challenge / Teen Mazda Challenge
Clayton Ketcher – Spec Miata, Teen Mazda Challenge
Connor Zilisch – Spec MX-5 Challenge & Spec Miata
Grant West – Spec MX-5 Challenge
Jillian Fichter – Spec Miata
Laura Hayes – WRL
Michael Borden – Spec MX-5 Challenge
Michele Abbate – SCCA, WRL & Trans Am
Wyatt Couch – Spec MX-5 Challenge / Teen Mazda Challenge
The winners will be announced on the evening of October 21st concluding the Shootout on track session.