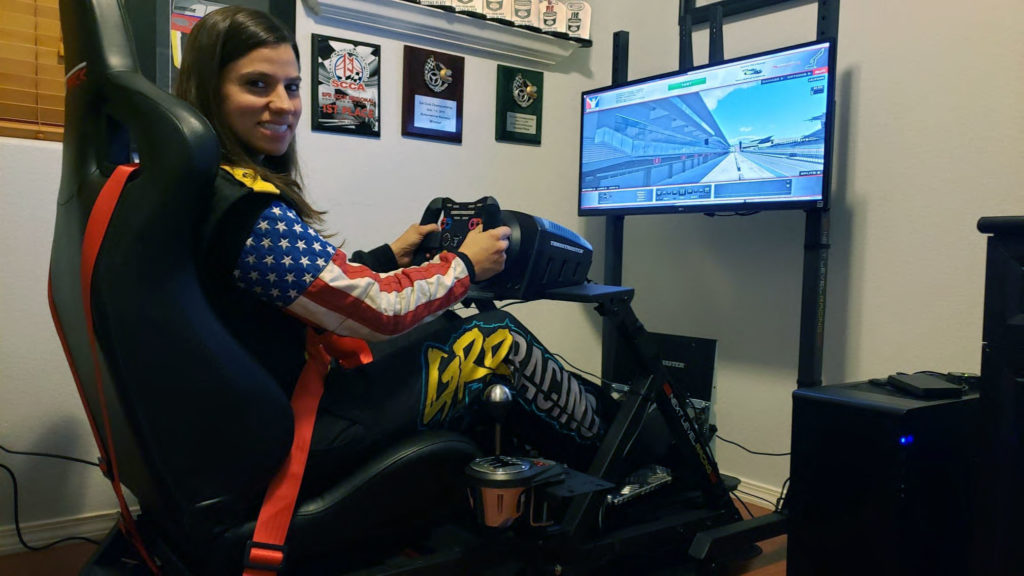 In June, Trans Am Grr Racing team owner and driver, Michele Abbate attended the Interrupt Sports Tech Summit in Los Angeles and spoke about several of the industry leading technologies that aide today's racing drivers in perfecting their craft.  During her panel Michele highlighted tools like the AiM Data Sports SmartyCam for analyzing car data, the Scosche rhythm+ heart monitor band that records her heart rate throughout a race, and she also spoke about the advancements of racing simulators that can help a driver learn new tracks, try different cars, and provide endless laps without the wear and tear on racing equipment.
During that time Michele was working directly with Next Level Racing (www.nextlevelracing.com), one of the world's top manufacturers for Racing Simulators.  "Next Level Racing has some of the best products in the gaming world, specifically built for racers and gamers looking for the most realistic experience", Michele shared.  "I did a lot of research and I knew it would be a smart move to align with Next Level Racing.  Their Global Ambassador Team speaks volumes to their efforts and I am very proud to be the first American to represent their products and brand", Michele adds.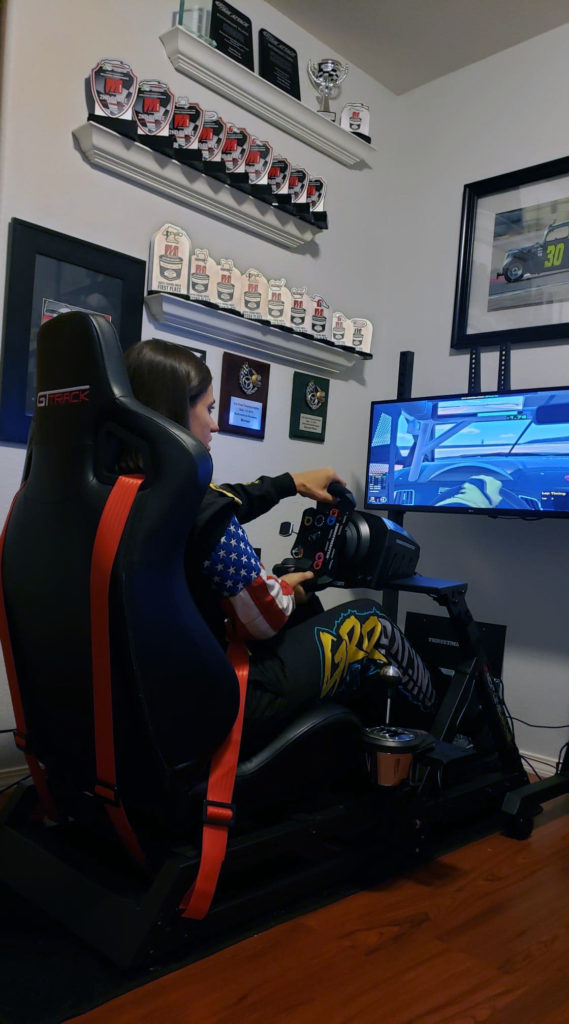 Abbate is set up with the NLR GTTrack simulator and is proud to be partnered with Thrustmaster (www.Thrustmaster.com) to complete her set up.  Her system includes the Thrustmaster TS-PC Racing wheel, Thrustmaster T3PA-Pro pedal set, and the Thrustmaster TH8A shifter. The construction and adjust-ability of the GTtrack makes it easy to set up and provides a solid platform for gaming.  "Every component of this simulator build is spot on. I am extremely new to gaming but I understand quality and when relating these products directly to my race car, it is really rewarding to be able to instantly appreciate the aesthetics and authenticity of a real racing wheel, pedal feel, and shifter, and Thrustmaster has really nailed that down," she explains.  Next Level Racing is excited to support and work directly with Michele Abbate, an established pro driver who is motivated in furthering their career in motorsports.
Take a look at the un-boxing video (click here:  https://youtu.be/WjsyzasgHRM  ) from when Michele received her new racing simulator cockpit and be sure to follow along as she shares her journey of entering the sim would from her 8 years of experience of road racing!  She recent joined Twitch (username: M1cheleAbbate) and will be both streaming and providing videos on youtube of her experiences.