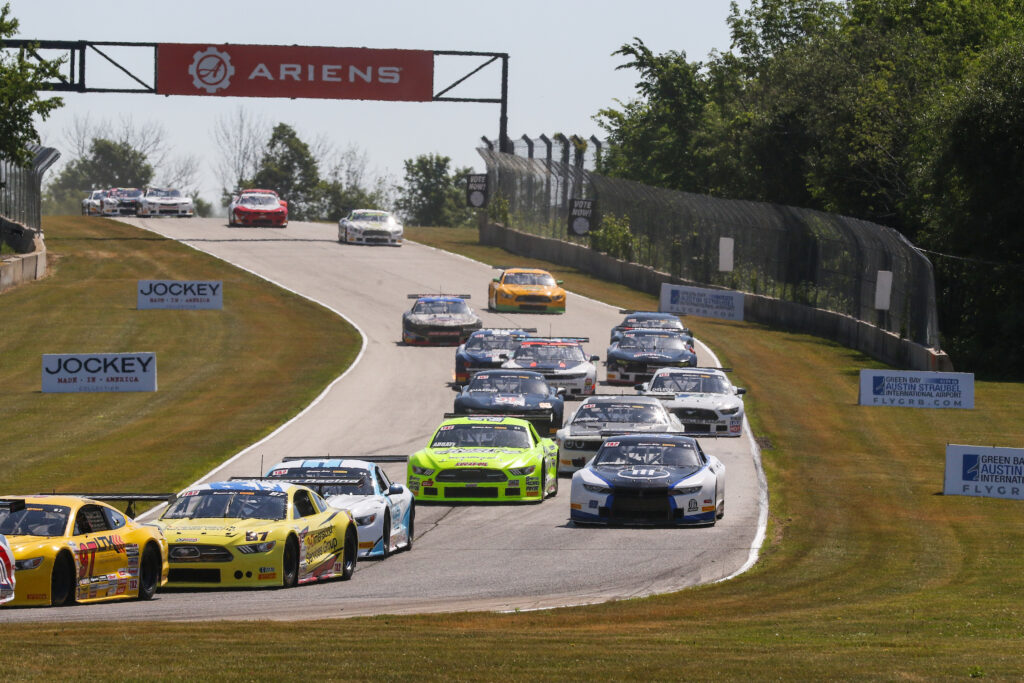 Round 8 of the 12 races on the 2022 schedule of the Trans Am series took place at Road America over the 4th of July weekend. A highly anticipated weekend for the series, as the event is run in conjunction with the NASCAR Cup and Xfinity series. It was packed with spectators all 4 days and it was Michele's first time on the Road America race track.
The weekend provided plenty of test time, and Michele was feeling really good after each session. Her first attempt on track gave her a baseline time of a 2:20.2. By the 2nd test session she dropped almost 2.5 seconds with a pb of a 2:17.8 putting her just inside the top 30 out of the 51 car field. Still learning the track, her progress was very impressive to see in such a short amount of time. In the final practice session she dropped another 1.7 seconds with a new pb of a 2:16.1 laptime. "There is still a lot of time to shave, obviously, when looking at the leaders; but for now, I have to focus on myself and not worry about anyone else. I am super stoked on my progress to learn the track this quickly and I know what I need to work on as we head into qualifying tomorrow", Michele said.
Saturday brought on qualifying and Abbate went to work in just 2 laps earning her personal best of a 2:14.9 laptime. "I am so happy with this, it is exactly what I was striving for and to break into the 14's my first visit here is proof for myself that I am able to take my data feedback and correct it", Michele shares with excitement. With a field of 47 cars to take the green, Abbate's spot earned her the 27th position.
Early Sunday morning the giant TA2 field roared down the long front straight of Road America as they went to take on the 100 mile race. As Michele entered turn 1, she was forced to put her ride side off the track as a competitor pinched her off the track. "Tensions are high and everyone is trying to capitalize in the first corner, but I know better and just held my own and worked to get slotted into position". Abbate was driving a smart race start, but unfortunately on lap 5 she overshot her braking zone into Turn 5. "I just blew it, I didn't account for the extra fuel load that we had and pushed a bit too hard into the corner and couldn't get the car slowed enough in time to make the corner", she said. Thankfully no contact was made with any other cars, but the off sent Abbate nose first into the sand trap. The race went yellow as she was pulled out, and she was able to drive it to the pits. Unfortunately the BC Race Cars team decided the damage to the front splitter was too much and it was not safe to continue.
Abbate was interviewed after her incident and said she was heartbroken at her rookie mistake but there are no excuses for what happened and she will just have to chalk it up as a learning experience and get ready for Nashville. "That's racing – you are driving on the edge every second you are in that car, and sometimes mistakes can happen. The most important part is to learn from it so it doesn't happen again and I know Michele will do just that. She is a smart driver and Turn 5 just got the best of her this weekend – we will come back stronger!", Crew Chief Anthony Philleo said.
You can catch the broadcast of the Road America race on the CBS Sports Network on Sunday, July 10 at 2:30 p.m. ET, with an encore presentation later that evening at midnight ET. TA2 returns to the track at the Big Machine Music City Grand Prix on August 5-6.