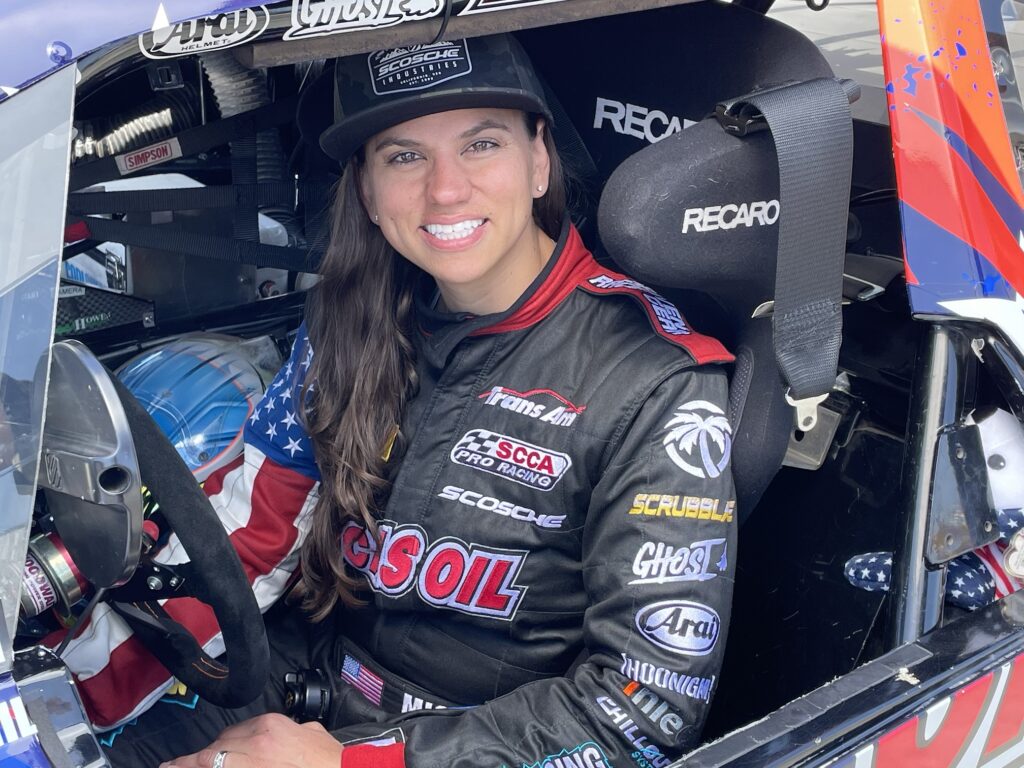 (For Immediate Release – Las Vegas, NV) May 21st – 23rd NASCAR will make their first appearance at the Circuit of the America's road course in Austin, TX.  A track designed for F1 – loaded with elevation, high speed straights, and 20 corners, it's a track that Michele Abbate has had success on.
In 2020, Abbate finished 2nd in the Trans Am West Coast Championship Series race at COTA in the TA2 class. "With NASCAR's announcement of adding COTA to their schedule I immediately hit the ground running doing everything I could to make my debut.", the four-time road racing champion shared.
''My long time sponsor Scosche (www.scosche.com) has signed to be my title sponsor for my NASCAR debut" said Abbate.  "We will be running the #30 Scosche Toyota Tundra in the Camping World Truck Series prepared by On Point Motorsports.  I am fortunate to also have one of my most recent partners, GHOST® (www.ghostlifestyle.com), contribute to my NASCAR effort and this is truly a story of hard work and dedication coming to fruition."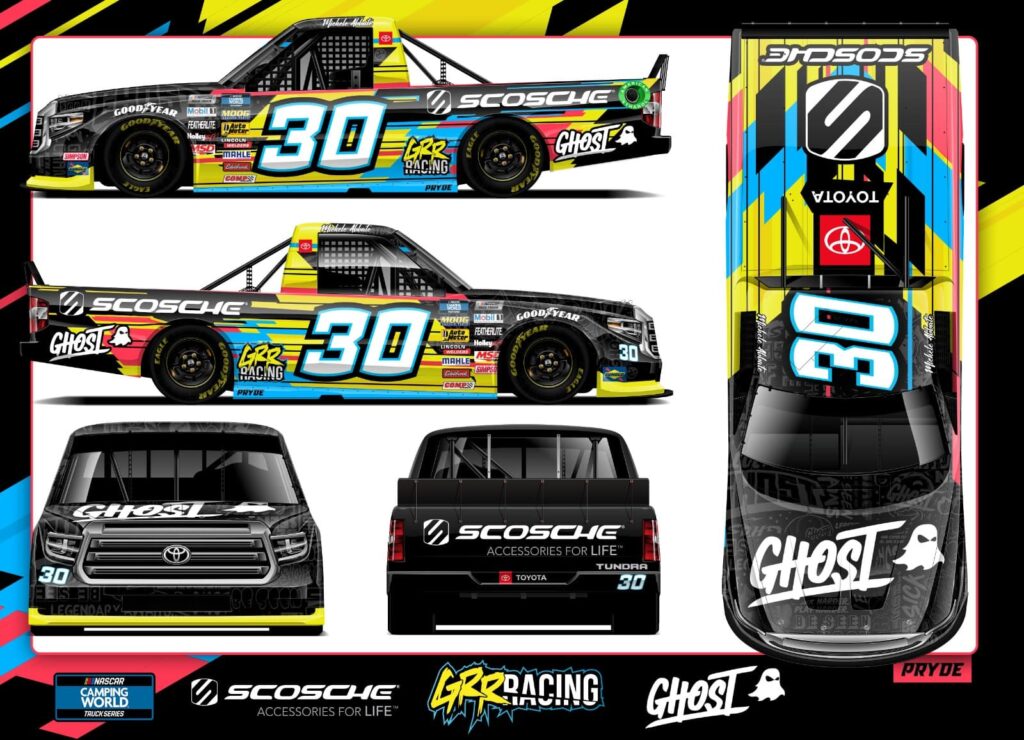 Abbate has a long list of accolades including making history in 2020 as the first and only woman to ever stand on the Trans Am TA2 podium, she was voted the 2020 Trans Am Fan Favorite Series Driver, and she was the 2020 Vice-Champion in the Trans Am West Coast Championship presented by Pirelli.  The youngest female to stand on the SCCA National Run-Offs Championship podium in the GT-1 class (2018), she is currently competing for the full schedule of the Trans Am West Coast series for 2021.
We are so excited for Michele at GRR Racing to reach a hard earned entry into the 2021 NASCAR Camping World Truck Series race. Michele has great passion, experience and talent for racing and very much deserves to be there. We wish her the best of luck in her Scosche #30 race truck and dream come true debut at her first ever NASCAR race. We are Fans!" – Kas Alves, Co-President, Scosche Industries
"Michele has been such an amazing addition to the GHOST® family. Her passion and work ethic inspires all of us, and this upcoming weekend's NASCAR debut is truly an example that anything is possible if you truly put your mind to it. GHOST® is humbled to be a small part of the story, and we know this first race is only the beginning for Michele and GRR Racing."  – Daniel Lourenco, CEO, GHOST®
"This is truly a special and unique opportunity and I am so grateful for my partners, Scosche and GHOST®, who have made it possible for me to advance my racing career to the next level.  I am very proud to bring them into the world of NASCAR where many fans of the sport can benefit from all of their amazing products and I look forward to showcasing my abilities with some of the best talent in America!"
Be sure to catch Michele's NASCAR debut at the COTA road course for the Tundra 225 LIVE on Fox Sports 1 and MRN May 22nd at 12:00 CST.  You can also follow along on the Official Grr Racing App available on Android devices.  Also be sure to follow us at: @M1cheleAbbate @Scosche @GHOSTlifestyle @GrrRacing, and @OnPointMotorsports30
ABOUT SCOSCHE
Scosche was born from, and runs on our passion for cool vehicles, amazing sounds, the great outdoors, travel, motorsports, horsepower and voltage. We're a company of gearheads, drivers, surfers, racers, riders, tech buffs, tech users, innovators, and relentless pursuers of perfection. We never get stuck in the past or in the mud.
Scosche Mission Statement:  Our goal is to produce cutting edge, innovative accessories at a competitive price. To provide superior service and quality for our customers. To create products they will enjoy for life, with American ingenuity they appreciate.
About GHOST®
GHOST® is a lifestyle brand of dietary supplements, sports nutrition products and apparel. GHOST® is disrupting the sports nutrition industry by creating a lifestyle movement that includes transparent innovative products, global distribution, immersive content, key influencer partnerships and collaborations with many of the world's leading flavor brands including Chips Ahoy!®, Sour Patch Kids®, Sonic® Drive-In, Warheads®, Swedish Fish® and Welch's®. GHOST® products can be found at GNC, Vitamin Shoppe, Ghostlifestyle.com and select global retailers in over 40 countries. For more information visit ghostlifestyle.com or connect with the brand on Instagram, Twitter, Facebook, or Twitch.