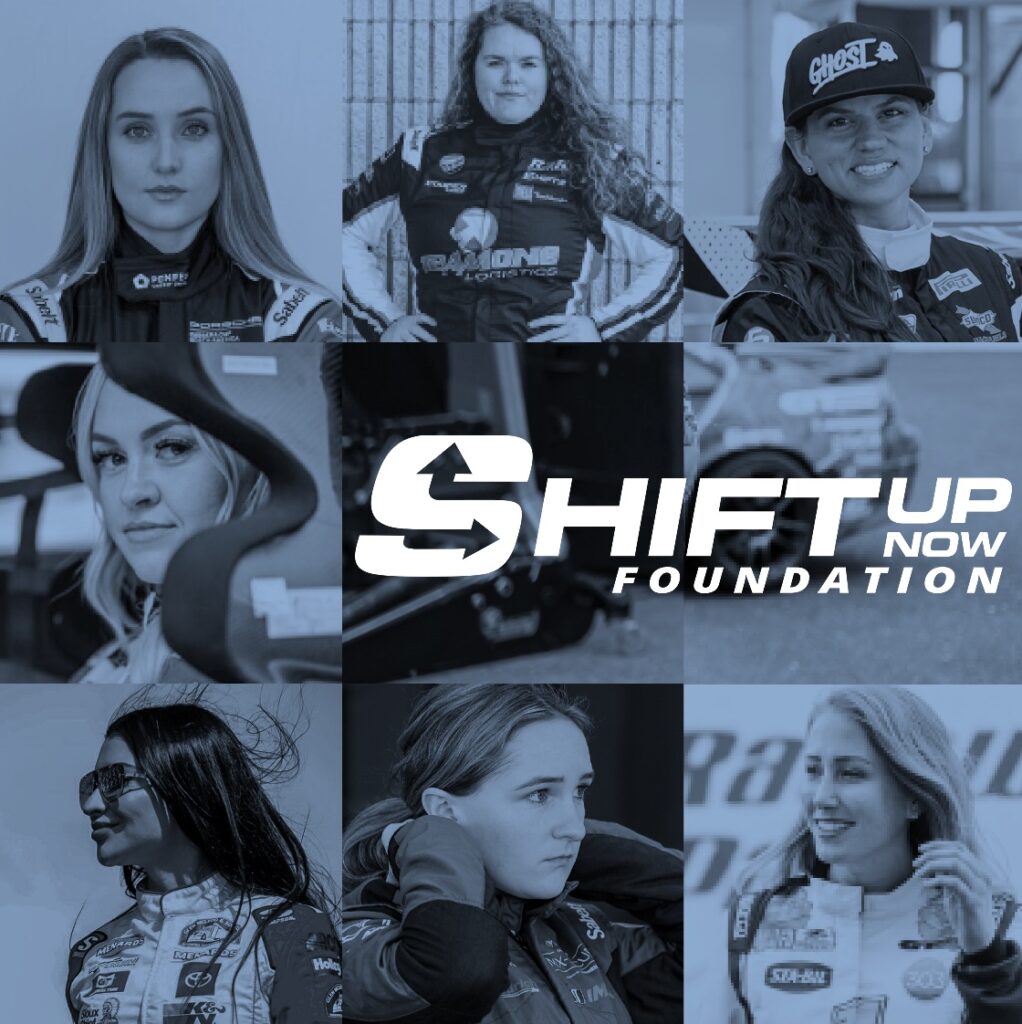 FOR IMMEDIATE RELEASE FROM THE SHIFT UP NOW FOUNDATION:
Shift Up Now Foundation Awards First-Ever Sponsorship Grants
Indianapolis, IN – September 20, 2023 – The Shift Up Now Foundation is proud to announce that seven female racers, including six Shift Up Now Athletes, will be the recipients of the first-ever sponsorship grants from the organization.
In August, the Shift Up Now Foundation launched its first official fundraising campaign. The "40 for 40" campaign was aimed at raising $40,000 in celebration of President Pippa Mann's 40th birthday. It surpassed expectations and allowed the foundation's executive committee to discuss distribution of the funding.
In combination with outside donations, available grant funding totaled nearly $60,000. The committee met to choose from an abundance of applications from deserving female racers. Following the meeting, it was decided that six grants would be awarded for current Shift Up Now Athletes, plus one for a developing racer to close out her 2023 racing program.
"We are thrilled by the generosity of our fans, friends, and the racing community at large," said Mann. "To have our first campaign exceed its goal and allow us to fund even more racers than we expected gives us faith that our visibility is growing, and that our work is having a positive impact on motorsports."
The seven Athletes chosen include Sabre Cook, Sarah Montgomery, Michele Abbate, Ashley Freiberg, Amber Balcaen, Kelsey Rowlings and Heather Hadley.
Cook, who won the Kellymoss shootout last fall to earn a full-season seat for 2023, was the first grant recipient. She has worked tirelessly this season to bring on new sponsors, and proven that she can both activate and deliver for them.
Montgomery was chosen as the second grant recipient. She was part of an all-female team of drivers in the World Racing League GTO class for the first half of the 2023 season, and will use the grant funds to secure a seat in this year's season finale.
Abbate received the third sponsorship grant. Earlier this year, she was involved in an accident due to equipment failure which set her program back financially. She has worked hard to return to competition after only eight weeks. Her professionalism and work ethic continues to impress at Shift Up Now.
Freiberg, the fourth grant recipient, is in the midst of an outstanding 2023 season so far. Her grant will cover the costs of her season finale race in the Porsche Sprint Challenge 991.2 class with MDK Motorsports.
Balcaen received the fifth sponsorship grant. The Canadian driver consistently shows front-running pace, and the funding will allow her to spend extra seat time testing this fall in the lead-up to her 2024 season.
Rowlings received the sixth grant as the final current Shift Up Now Athlete. She's the longest-competing female driver in Formula Drift history, and will use the grant funds for her final Formula Drift event, as well as the Gridlife Invitational Exhibition and SEMA Exhibition.
The recipient of the seventh and final sponsorship grant is currently not a Shift Up Now Athlete. In living up to its mission to promote more women into the top echelons of motorsports, the Shift Up Now executive committee recognizes the importance of helping to fund not only female racers with proven track records, but also young up-and-coming female racers.
Hadley competes in the Global Mazda MX-5 Cup Series, where she has already earned two top-ten finishes in her rookie season. She will use the funds for her final 2023 race of the 2023 season at Road Atlanta.
The Shift Up Now Foundation is proud to be able to grant funds to these seven female racers in its first year of operation.
"On behalf of the entire Shift Up Now Foundation executive committee, we want to thank everyone involved," said Mann. "Special thanks to all of our donors, and to everyone who took the time to share the 40 for 40 Campaign to their professional and social networks. Without you, our loyal fans, friends, and supporters, we wouldn't have achieved this success. We look forward to a bright future of funding female racers."
For more information or to donate, please visit www.ShiftUpNow.org.