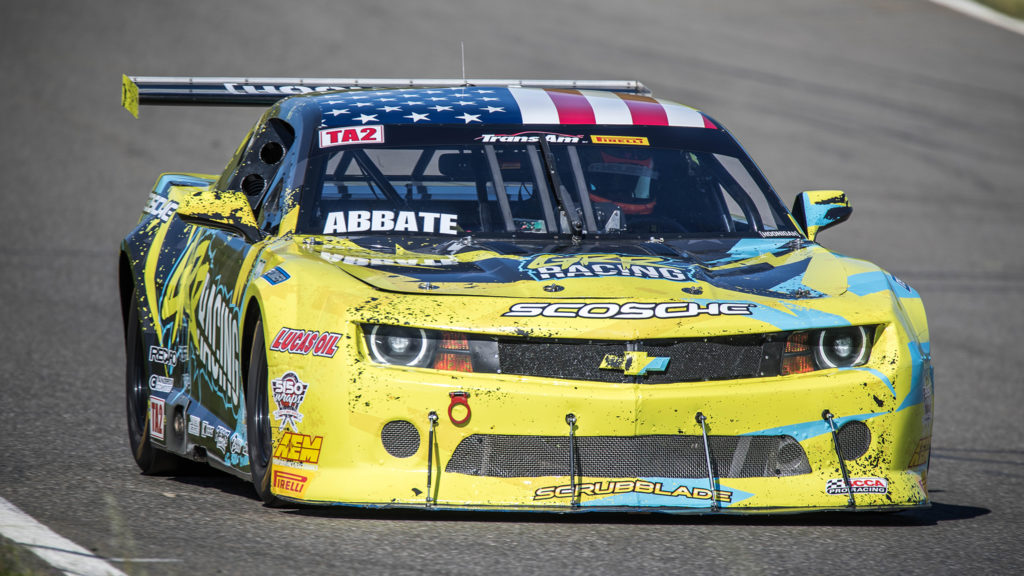 The Trans Am West Coast series presented by Pirelli had its season opener race weekend at Thunderhill Raceway April 12-14. With a record breaking amount of entries for the series, Michele Abbate of Grr Racing made her debut in the 10 car TA2 field.
With limited track time, the Grr Racing team found themselves fighting to meet the sound decibel requirements even after installing two mufflers into the #30 Grr Racing Camaro. With few options and time running out, Crew Cheif Anthony Philleo was able to adjust the exhaust by modifying each runner and creating a turn down. With less than 30 minutes to grid for qualifying Trans Am officials issued an addemdum allowing 110 db and Abbate qualified P6 to take the green on Sunday's feature 100 mile race on the 2.9 mile course.
At 12:45pm the entire Trans Am field took the green flag with its 3 classes, TA, TA2, followed by GT. Abbate made a flawless start and found herself in the P5 position by turn one. "I planned to stay calm and not too aggressive, knowing it was a long race I didn't want to make any mistakes or take any chances that would jeopardize our race right at the start", Michele shared. She maintained her position well and started gaining on the 4th place driver. "I was trying to maintain my tires, but the car was getting really loose on the left handers, even after reducing my speed quite a bit", said Michele.
Michele fell back to P8 while doing her best to drive with what she had, but a little more than halfway through the race the right rear tire exploded around 110mph sending Abbate into the grassy field at turn 8. Unable to get the car moving due to the blow out the FCC towed her back to the hot pits. "Michele came on the radio saying she needed a right rear, so I ran to the trailer and brought one back to the pit box before she got back to the pit wall," Anthony explained. He was able to get the car up, swap another wheel on and set Abbate back out on track.
The team was able to take the white and checkered flag, accomplishing exactly what they had come there to do – complete their first Trans Am race! "This is all a part of racing, the highs wouldn't be so high if there weren't any lows. This is an acheivement in itself to be here, competing with these teams in this series, and I couldn't be more proud of our efforts. We have and will never give up. We have a lot to learn but we are committed 100% and we showed that in a big way this race", team owner and driver Michele Abbate said.
Catch the team at the next Trans Am West Coast series race at Auto Club Speedway on April 27-29. Be sure to see all the video coverage on Michele's instagram @M1cheleAbbate and additional coverage on @GrrRacing. We thank you for your continued support!